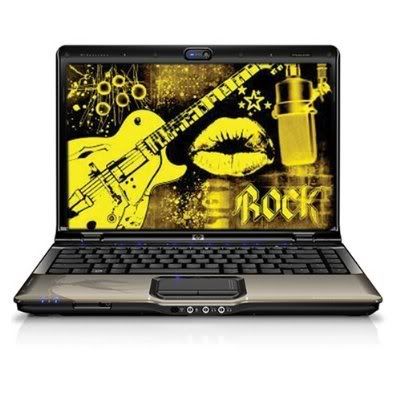 The entertainment-centric HP Pavilion dv2840se notebook PC provides quick access to your digital audio and video library wherever you roam. Weighing in at 5.25 pounds, it features the HP exclusive high-gloss, organic Verve imprint finish, which flows freely across the top cover then bursts across the palm rest area.
It's powered by the 2.1 GHz AMD Turion 64 X2 TL-62 dual-core processor, which offers 64-bit computing capability and higher throughput for simultaneous computing tasks. Other features include a 250 GB hard drive, 4 GB of installed RAM (maximizing capacity), quad-mode Wi-Fi LAN (802.11a/b/g/n), multi-format/dual-layer LightScribe DVD drive (which can also burn CDs), Nvidia GeForce Go 7150M video card with up to 1071 MB of total available video memory, multi-format memory card reader, integrated Webcam for easy video conferencing, and Bluetooth wireless connectivity to your peripherals and communication headsets.
While this notebook is actually as wide as standard 15-inch displays, the high-definition, widescreen 14.1-inch display (1280 x 800-pixel resolution) has the same form factor as a 12-inch screen–taking up less space on your desk. Video is powered by the integrated Nvidia GeForce Go 7150M graphics/video card, which provides up to 1071 MB of total graphics memory as allocated by Windows Vista.
HP Pavilion drivers are essential components of HP Pavilion DV2840SE laptop. The HP Pavilion DV2840SE drivers allow for smooth function of Windows 10, 8.1, 7, XP, etc. by facilitating the communication between the OS on both 32-bit and 64-bit devices connected to your hardware.
Updating the HP Pavilion DV2840SE driver versions can resolve different driver issues, like no mouse pointer on screen, 0x0000003B System_Service_Exception blue screen error etc. So it is recommended to download the best-match HP Pavilion DV2840SE drivers and keep your HP laptop up-to-date.
If you are looking for available drivers or software related to your HP Pavilion DV2840SE laptop. The following software and drivers are compatible with your DV2840SE and Microsoft Windows Vista 64-bit.
Download The Latest Windows 10 Drivers For HP Pavilion DV2840SE
BIOS
Download – WinFlash for HP Notebook System BIOS (with AMD Processor) F.28
Driver – Audio
Download – Conexant High-Definition SmartAudio 221 Driver 4.36.7.60 A
Driver – Graphics
Download – NVIDIA MCP67M Graphics/Video Driver 7.15.11.5671 A
Driver – Keyboard, Mouse and Input Devices
Download – ALPS Touchpad Pointing Device Driver 7.0.1702.6.3 A
Download – AuthenTec Inc. AES2501A Fingerprint Driver 7.9.0.4 A
Download – Ricoh Media Card Reader Host Controller Driver 3.52.02 A
Download – HP Digital/Analog TV Tuner Driver Software 5.0 A
Driver – Modem
Download – Conexant HDAUDIO Soft Data Fax Modem with SmartCP Driver 7.67.00.00 A
Driver – Network
Download – Broadcom Wireless LAN Driver for Microsoft Windows Vista 7.00 C
Download – Software Support for HP Integrated Module with Bluetooth Wireless Technology (Microsoft Windows Vista) 6.0 I
Firmware
Download – Firmware Upgrade for Specific Hitachi Hard Drives C40A/80A
Operating System – Enhancements and QFEs
Download – Essential System Updates for Microsoft Windows Vista 2.00
Download – HP Help and Support for Microsoft Windows Vista (64-bit Editions) 1.5.0.0
Software – Internet Access
Download – HP Update and HP Software Update – Critical Security Update 1.00 C
Software – Multimedia
Download – HP QuickPlay Web Update 3.63 A
Download – Cyberlink YouCam Software 1002
Software – Security
Download – DigitalPersona Fingerprint Software for Microsoft Windows Vista (64-bit) 3.1.0.3276_64 A
Download – NIS 2008 Modem Compatibility Update 1.00 A
Software – Solutions
Download – Symantec Configuration Wizard Update for Norton Internet Security (NIS) 2008 1.0 A
Download – LightScribe Host Software 1.10.19.1 A
Download – HP QuickTouch Software 1.00 C
Utility – Tools
Download – HP Help and Support for Microsoft Windows Vista 2.0.9.0 A
Download – HP Active Support Library 3.01.4.1 A