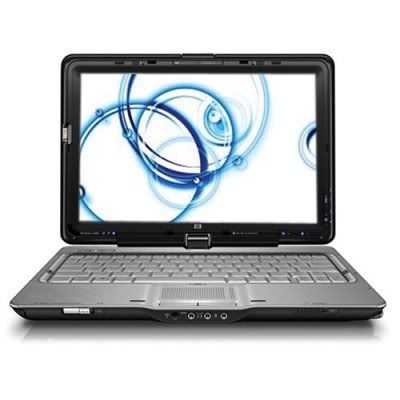 HP Pavilion tx2120us is a multimedia laptops with the 64-bit version of Microsoft Windows Vista Home Premium (Service Pack 1), which includes all of the Windows Media Center capabilities for turning your PC into an all-in-one home entertainment center. In addition to easily playing your DVD movies and managing your digital audio library, you'll be able to record and watch your favorite TV shows (even HDTV).
It's powered by the 2.2 GHz AMD Turion 64 X2 TL-64 dual-core processor, which offers 64-bit computing capability and higher throughput for simultaneous computing tasks. Other features include a 250 GB hard drive, 4 GB of installed RAM (maximizing capacity), quad-mode Wi-Fi connectivity (802.11a/b/g/n), Bluetooth connectivity, multi-format/dual-layer LightScribe DVD/RW drive (which also burns CDs), ExpressCard slot, NVIDIA GeForce Go 6150 video/graphics card with 527 MB of shared video RAM, and Gigabit Ethernet.
If there is something wrong with your HP Pavilion TX2120US drivers which could result in no sound, no Wi-Fi available, blue screen, reboot loop, screen flickering, etc. To avoid the aforementioned computer issues, you'd better regularly download and update HP Pavilion TX2120US drivers for Windows Vista or Windows XP.
Download The Latest Windows Vista 64-bit Drivers For HP Pavilion TX2120US
BIOS
Download – inFlash for HP Notebook System BIOS (for Notebooks with AMD Processors) – Microsoft Windows Vista-Based F.08
Driver
Download – Realtek High-Definition Audio Driver 6.0.1.5494 A
Driver – Audio
Download – Realtek High-Definition Audio Driver 6.0.1.5636 A
Driver – Graphics
Download – NVIDIA GeForce Series Video Driver 7.15.11.7713
Download – NVIDIA GeForce Go 6150 Video Driver 7.15.11.5682 A
Driver – Keyboard, Mouse and Input Devices
Download – HP USB Digital/Analog TV Tuner 1.0 D
Download – HP DVB-T TV Tuner External Expresscard Driver 22.0 A
Download – HP Quick Launch Buttons 6.40.8.2 H
Download – AuthenTec AES1610 Fingerprint Driver 7.10.1.0
Download – AuthenTec Inc. AES1610 Fingerprint Driver 7.9.0.4 A
Download – Wacom Digitizer Driver 5.05-5_HP5 A
Download – HP Quick Launch Buttons 6.40 B
Download – Synaptics Touchpad 10.0.13.2
Driver – Modem
Download – Motorola SM56 Modem Driver 6.12.12.2 A
Driver – Network
Download – Broadcom Wireless LAN Driver for Microsoft Windows Vista 7.20
Download – NVIDIA nForce Chipset/Network Drivers 5.53 A
Download – Software Support for HP Integrated Module with Bluetooth Wireless Technology (Microsoft Windows Vista) 6.0 I
Firmware
Download – Firmware Upgrade for Specific Hitachi Hard Drives C40A/80A
Operating System – Enhancements and QFEs
Download – HP Access Control List Update for Microsoft Windows Vista 1.00 B
Download – HP Recovery Partition Remover for Microsoft Windows Backup (Microsoft Windows Vista SP1) 1.00 A
Download – Essential System Updates for Microsoft Windows Vista 2.00 L
Software – Internet Access
Download – HP Update and HP Software Update – Critical Security Update 1.00 C
Software – Multimedia
Download – Cyberlink YouCam Software 2.0.2519
Download – Cyberlink YouCam Software 1017
Software – Security
Download – DigitalPersona Fingerprint Software for Microsoft Windows Vista (64-bit) 3.1.0.3276_64 A
Download – NIS 2008 Modem Compatibility Update 1.00 A
Software – Solutions
Download – HP Advisor 3.3.12286.3436
Download – HP Advisor 3.1.9289.3128
Download – HP Software Update 4.0.10 B
Download – Symantec Configuration Wizard Update for Norton Internet Security (NIS) 2008 1.0 A
Download – LightScribe Host Software 1.10.19.1 A
Utility – Tools
Download – Advanced Format Hard Disk Information Tool 1.0
Download – HP Support Assistant 5.2.9.2
Download – HP Help and Support for Microsoft Windows Vista 2.1.3.0
Download – HP Active Support Library 3.1.10.1
Download – HP Recovery Manager Installer 4.0.4