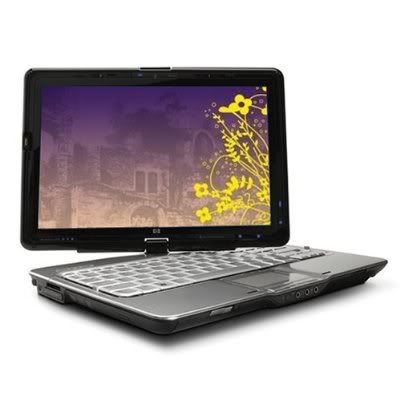 The HP tx2510us laptop combines powerful ultra powerful computing with Tablet PC capabilities and entertainment features in an attractive design light enough to go anywhere. This is a true Tablet PC: write, draw and erase accurately with the included pen. Twist the display up to 180 degrees to share content and watch films — or fold it flat for writing. Surf the Web and use applications intuitively by touching the screen with your finger tips.
Show off your style with the high gloss HP Echo Imprint finish, inspired by the circular elements found in audio equipment, and more durable than traditional painted surfaces. Backlit media controls respond to the sweep of a finger.
HP QuickPlay enables access to DVDs, photos, music, games, and other streamed Internet content. Dual headphone jacks enable you to share films and music without disturbing others. And the included HP Mini Remote Control can be stored in the ExpressCard slot for convenience. Enjoy enhanced security with built in fingerprint reader, which uses fingerprints instead of standard passwords to access online accounts such as banking and email.
The system is powered by a 2.1GHz AMD Turion 64 X2 ZM-80 Ultra Dual-Core Mobile Processor CPU and boasts 3GB of RAM, a 250GB 5400rpm SATA hard drive, a SuperMulti DVD burner with LightScribe, Bluetooth, wireless Ethernet, and a 12.1″ widescreen display powered by ATI Radeon HD 3200 RS780M graphics. Windows Vista Home Premium is the platform that ties all this hardware and software together, providing a great portable computer for the digital savvy family, backed by the Hewlett-Packard name.
HP Pavilion TX2510US noteook, featured as the perfect blend of laptop and tablet, with a mode to fit into every situation, are the hot HP's laptops. HP Pavilion TX2510US drivers, which control the communication between your HP Pavilion's hardware and your notebook, should be updated regularly to keep your laptop running in the optimal status.
If you are looking for available drivers or software related to your HP Pavilion TX2510US laptop. The following software and drivers are compatible with your HP Pavilion TX2510US and Microsoft Windows 7 64-bit.
Download The Latest Windows 7 64-bit Drivers For HP Pavilion TX2510US
| Driver | Version | Size | Download |
| --- | --- | --- | --- |
| Realtek High-Definition Audio Driver | 6.0.1.5918 Rev. A | 58.4 MB | Download |
| ATI Radeon HD 3200 Graphics/Video Driver | 8.632.0.0 Rev. A | 109.5 MB | Download |
| AuthenTec AES1610 Fingerprinter Driver | 8.4.2.0 Rev. A | 5.8 MB | Download |
| HP Quick Launch Buttons | 6.50.12.1 Rev. A | 24.6 MB | Download |
| Synaptics TouchPad Driver | 13.2.4.12 Rev. A | 34.8 MB | Download |
| Motorola SM56 Data/Fax Modem Driver | 6.12.25.5 Rev. A | 3.3 MB | Download |
| Broadcom Wireless LAN Driver for Microsoft Windows 7 | 5.60.18.8 Rev. B | 20.6 MB | Download |
| Realtek RTL8168C/8111C Family PCI-E Gigabit Ethernet NIC Driver | 7.3.522.2009 Rev. A | 5.5 MB | Download |
| WinFlash for HP Notebook System BIOS (for Notebooks with AMD Processors) – Microsoft Windows Vista-Based | F.0F Rev. | 3.7 MB | Download |
| Cyberlink YouCam Software | 2.0.3115 | 51.2 MB | Download |
| HP MediaSmart DVD Software | 4.1.4229 Rev. | 52.9 MB | Download |
| HP MediaSmart Live TV Software | 3.1.3003 | 35.4 MB | Download |
| HP MediaSmart MVP Software | 3.1 Rev. D | 384.1 MB | Download |
| HP MediaSmart Music Software | 4.1.4215 Rev. | 41.6 MB | Download |
| HP MediaSmart Photo Software | 4.1.4319 Rev. | 128.4 MB | Download |
| HP MediaSmart SlingPlayer Software | 3.0 Rev. C | 42.8 MB | Download |
| HP MediaSmart Webcam Software | 4.1 Rev. C | 153.8 MB | Download |
| HP ProtectSmart Hard Drive Protection | 4.0.3.1 Rev. A | 4.7 MB | Download |
| Digital Persona Fingerprint Reader Software | 4.0.1.3749_64 Rev. A | 26.9 MB | Download |
| HP Advisor | 3.3.12286.3436 Rev. A | 70.0 MB | Download |
| HP Support Assistant | 7.7.34.34 Rev.A | 35.9 MB | Download |
| HP Wireless Assistant | 3.50.10.1 | 4.1 MB | Download |
| Lightscribe System Software | 1.18.6.1 Rev. | 9.5 MB | Download |
| Recovery Manager Installer Patch for Microsoft Windows 7 Upgrade | 1.0.5 Rev. | 0.4 MB | Download |
| Advanced Format Hard Disk Information Tool | 1.0 Rev. A | 22.2 MB | Download |