Sony VAIO VGN-FZ220E/B Laptop Computer The slim and light Sony VAIO VGN-FZ220E/B Laptop Computer packs big power into a small, portable and durable magnesium alloy chassis. 15.4-inch WXGA LCD offers Sony's XBRITE-ECO display technology and has a widescreen resolution of 1280 x 800 pixels. The XBRITE-ECO technology delivers brilliant colors and stunning clarity with efficient power usage, and it features an anti-reflective coating to minimize reflection and ensure a beautifully clear image from any viewing angle.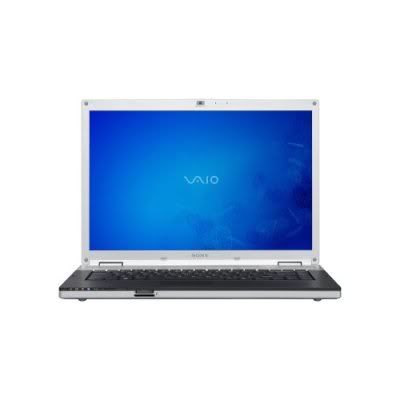 Performance Get the ultimate mobile experience with unparalleled processing speeds, longer battery life and enhanced wireless connectivity. Powered by an Intel Core 2 Duo T5250 processor has a 1.5 GHz processor speed, fast 667 MHz front-side bus (FSB), and large 2 MB L2 cache. (An L2, or secondary, cache temporarily stores data; and a larger L2 cache can help speed up your system's performance. The FSB carries data between the CPU and RAM, and a faster front-side bus will deliver better overall performance.).
The 200 GB Serial ATA hard drive is about double the average size for notebook PCs, however its 4200 RPM speed is a bit slower than current standard hard drives. and 2 GB of installed RAM (2 x 1 GB DDR2, PC5300) of memory for all your storage and performance needs. And for those long flights, enjoy the Sony VAIO VGN-FZ220E/B Laptop Computer's dedicated multimedia controls.These intuitive music and video controls are user-friendly, so you can easily control your CDs, DVDs, pictures and home movies with the push of a button.