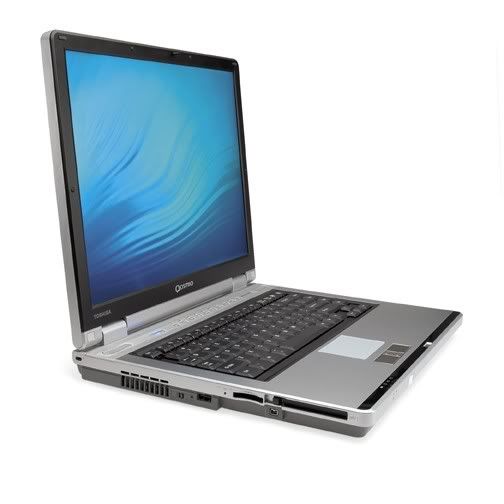 The Toshiba Qosmio E15-AV101 is a superb portable package that impresses in virtually any environment. Powerful, exceedingly versatile, and packed with cutting-edge amenities, the Qosmio E15-AV101 is well-suited to discriminating individuals with a passion for Multimedia.Featuring Toshiba's TruBrite technology for a better, brighter picture than with typical notebooks, a maximum resolution of 1,024 x 768 pixels, and extrawide viewing angles, this display is ready for any environment and source.
Get everything you want in one convenient chassis: sight, sound, premium PC functionality and simple connectivity.Simple organization describes the many external ports that come standard on Qosmio AV notebook PCs. Unlike other notebooks, the Qosmio E15 was designed with home aesthetics in mind. Because it thinks like a home entertainment center, nearly all external wires plug into the back of the unit for clean lines and thoughtful design. So it looks equally good nestled in with other electronics, or as a standalone unit.
Download The Latest Windows XP Drivers For Toshiba Qosmio E15-AV101
Download Driver LAN
Intel PRO 10/100 Model Driver V8.0.43.0(v8.0.43.0; 12-18-2006; 425K)
Download Driver Wi-Fi
Intel(R) 802.11a/b/g,b/g Driver V10.5.1.59/V9.0.4.17 & PROSet V10.5.0.1(v10.5.1.59; 09-19-2006; 51.01M)
Download Driver Bluetooth
Toshiba Bluetooth Stack for Windows XP/2000(v4.00.36(T); 04-28-2006; 26.56M)
Download Driver SD Flash Memory
Texas Instruments PCIxx21 FlashMedia Driver for Windows XP(v2.00; 07-12-2005; 3.53M)
Download User Guide/Addenda Windows XP MCE 
Toshiba Addendum for Qosmio E15/F15(v1; 01-20-2005; 24K)
Download Driver Windows XP MCE TV 
Toshiba PCI TV Tuner Driver for Windows XP(v1.0.0.9; 09-24-2004; 547K)
Download Driver SD 
Windows XP/2000 SD Host Controller Driver(v1.1.1; 07-23-2004; 1.85M)
Download Driver Sound 
ADI WDM Audio Driver for Windows XP(v5.12.01.3890; 07-23-2004; 6.58M)
Download LAN Wi-Fi 
Internal Wi-Fi Client Utility (Intel) for Windows XP(v1.16-RC1; 07-23-2004; 27.42M)
Download Driver DVD 
Toshiba DVD RAM Driver Software for Windows XP(v3.1.0.0; 07-23-2004; 1.6M)

Download Toshiba Display 
Toshiba Display Device Change Utility for Windows XP(v1.5.0.0; 07-23-2004; 333K)
Download LAN Driver Wi-Fi 
Toshiba Internal Wireless LAN Driver for Windows XP(v1.17-RC1; 07-23-2004; 3.82M)
Download Multimedia Sound 
Toshiba SRS WOW Plugin for Windows Media Player 9(v1.0.2 EN; 07-23-2004; 3.4M)
Download Driver Modem 
Toshiba Software Modem Driver for Windows XP/2000(v2.1.3.8; 05-26-2004; 1022K)
Download LAN Utility Wi-Fi 
Toshiba Wireless Hotkey Utility for Windows XP/2000(v2.0.0.5; 01-21-2004; 1.45M)
Download Special 
Intel Chipset Software Installation Utility for Windows XP/2000(v5.0.2.1002; 12-01-2003; 2.38M)
If you have any questions on downloading Toshiba Qosmio E15-AV101 drivers, you can just reach the comment section below on this page for more technical support. If you have any other Windows driver-related issues, see Windows Driver Solutions section on this site.